School safety is a top priority at Ingram ISD. We have several measures in place to protect students and staff.

Ingram ISD Police Department
School Marshals on every campus
Multiple security cameras within the district with live access to local police
Criminal background checks on all employees, substitutes, volunteers and contractors on campus.
Radio contact between campus administrators and key personnel
Anonymous tip line
Good working relationship with local police enforcement
Frequent safety drills
School Pass system in place ensuring all visitors are checked in prior to entering the buildings.
School Marshals
Dear Parents and Guardians,

We would like to thank the community for the positive feedback following the installment of School Marshals at Ingram ISD. We appreciate your support and would like to be responsive to several questions that have come up. Below, we will attempt to provide answers to the most common questions. Feel free to contact any school administrator should you have further questions. Have a great year!
Frequently Asked Questions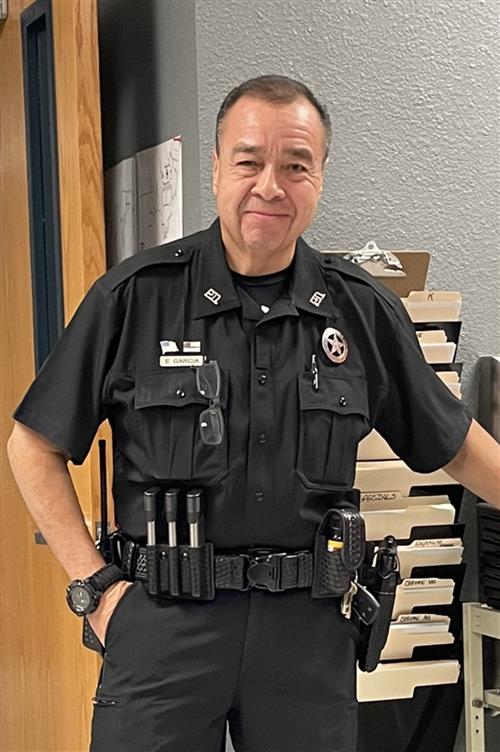 Eli Garcia
Ingram ISD - Chief of Police
830-955-8546
Ingram ISD Chief of Police
Please join us in welcoming Mr. Eli Garcia, Chief of Police, to the IISD family. Dr Templeton expressed how excited he is to welcome Eli. He brings a wealth of experience and community credibility to our district and has already jumped in and started building relationships and making an impact. "I love the fact that, not only will he be able to provide our students and staff with another layer of safety and security, but he will also be able to serve as a mentor to our kids. He has expressed how much he is looking forward to that role and to making a lasting impact on our students' lives. He has an easy - going fatherly way about him that I think will fit really well with our mission and philosophy. " said Dr. Templeton. It has been overwhelming to see the number of calls and communications that Dr. Templeton has received in support of his hiring. To say that he is well received is an understatement.
Campus Visitors

General Visitors

Parents and others are welcome to visit district schools. For the safety of those within the school and to avoid disruption of instructional time, all visitors must first report to the main office and must comply with all applicable district policies and procedures. When arriving on campus, all parents and other visitors should be prepared to show identification.

Visits to individual classrooms during instructional time are permitted only with approval of the principal and teacher and only so long as their duration or frequency does not interfere with the delivery of instruction or disrupt the normal school environment. Even if the visit is approved prior to the visitor's arrival, the individual must check in at the main office first.

All visitors are expected to demonstrate the highest standards of courtesy and conduct; disruptive behavior will not be permitted.
In accordance with Education Code 37.105, a school administrator, school resource officer (SRO), or district police officer has the authority to refuse entry or eject a person from district property if the person refuses to leave peaceably on request and: The person poses a substantial risk of harm to any person; or The person behaves in a manner that is inappropriate for a school setting and the person persists in the behavior after being given a verbal warning that the behavior is inappropriate and may result in refusal of entry or ejection.

Appeals regarding refusal of entry or ejection from district property may be filed in accordance with FNG(LOCAL) or GF(LOCAL).

Volunteers

We appreciate so much the efforts of parent and grandparent volunteers that are willing to serve our district and students. If you are interested in volunteering, please contact campus principal for more information and to complete an application.
Parent Information/Emergencies

Bad Weather Closing

The district may close schools because of bad weather or emergency conditions. When such conditions exist, the Superintendent will make the official decision concerning the closing of the district's facilities. When it becomes necessary to open late, to release students early, or to cancel school, district officials will post a notice on the district's website, post on our social media accounts and notify the following radio and television stations:
Radio: KERV/KRVL, KRNH
Television: KMOL (San Antonio), KSAT (San Antonio),and KENS (San Antonio)

We will also place a call via our School Messenger system.