Hightower accounts for 5 tds, Ingram Tom Moore rolls past San Angelo TLCA, 51-36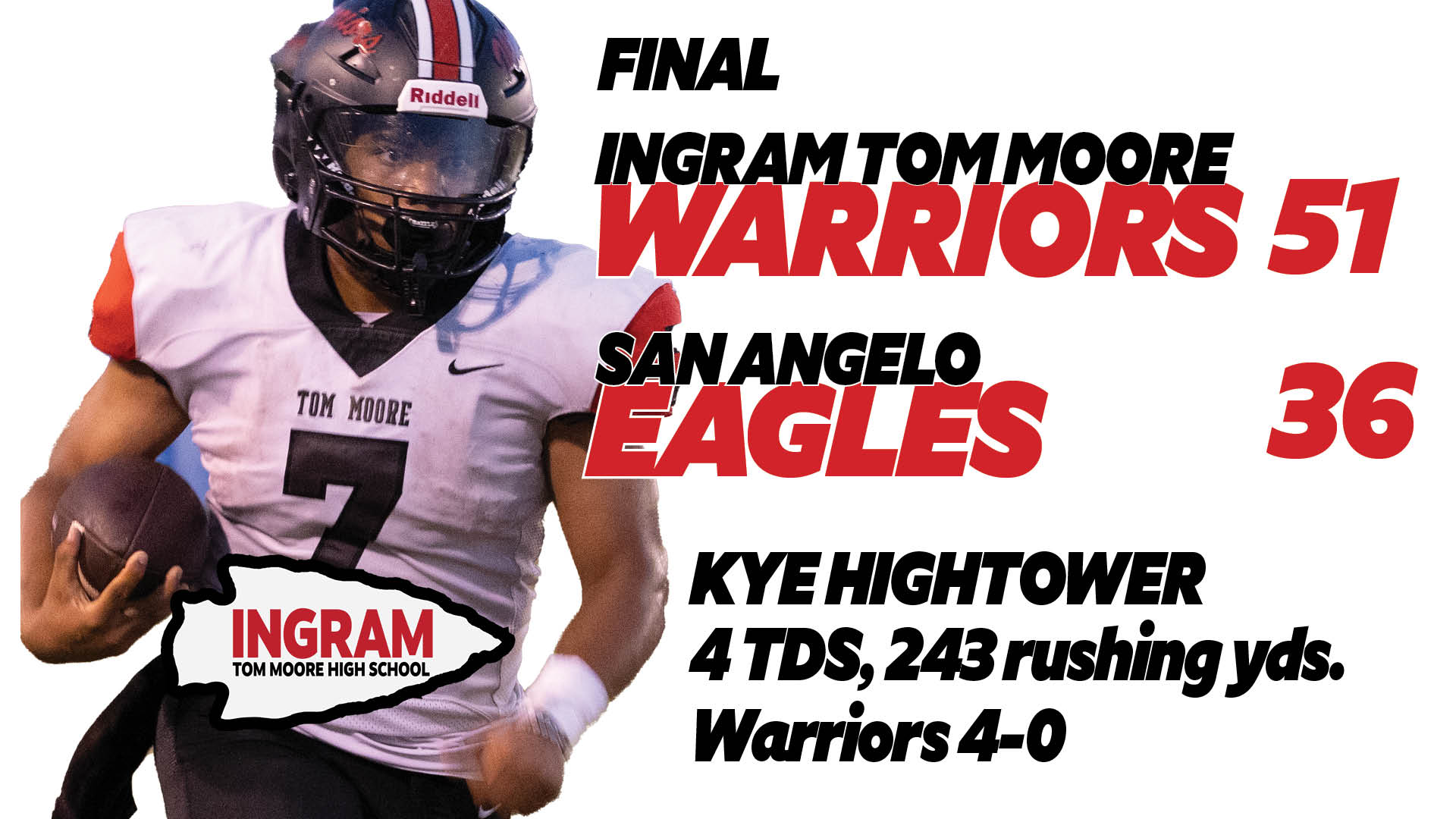 ---
SAN ANGELO — There were a few moments in the first half on Friday night when Ingram Tom Moore High School football coach Tate De Masco thought the game against Texas Leadership Charter Academy might be getting away from him.
Just looking at the stats, it indeed suggested the Warriors were in trouble, but the stats don't always tell the whole story. After a wobbly first quarter, the Warriors' defense showed up in the second half, limiting the host Eagles to 12 net rushing yards. The Warriors sacked TLCA quarterback Layne Honea seven times, forced him to fumble and picked him off once.
As good as the defense was, the play of junior quarterback Kye Hightower sparked the Warriors. Hightower accounted for five TDs and 375 all-purpose yards as the Warriors rallied from a slow start to steamroll host Texas Leadership Academy 51-36 as the Warriors improved to 4-0.
Hightower scored on an 85-yard lateral on a kick return, added three rushing touchdowns, including a 43-yard scamper to seal the win, and tossed a 43-yard touchdown strike to Maverick Delgado.
"We are happy to get out of here with a win," Ingram Tom Moore coach Tate De Masco said. "We are ready to get out of here and get ready for a tough district."
The Warriors get a much-deserved week off before visiting San Antonio Cole in the district opener on Sept. 29.
"We are beat up," De Masco said of his team's injuries.
It was also a sublime night for Cason Johnson, who had two significant punt returns that put the ball deep into TLCA territory. Johnson added two rushing TDs from 15 and 1 yard out. He had 30 yards rushing, but those were tough runs.
"I'm always proud of Kye," De Masco said of his junior quarterback. "But I was really proud of Cason tonight."
But when the Warriors needed it most, they handed the ball to Hightower, who carried 20 times for 243 yards — his third consecutive game over 200 yards.
In the second half, the Warriors got a muffed punt recovery from speedy Bowden Zipp, who also picked off Honea. Zipp's recovered punt at the TLCA 45 with nine minutes left in the game set up Hightower's 45-yard touchdown strike to a wide-open Maverick Delgado that put the Warriors up 44-28 with 9:03 left.
The defense in the late third quarter and early fourth bent but didn't break, forcing key stops. Middle linebacker Hunter Brackeen's sack of Honea on third down in the waning minutes of the third quarter forced the Eagles to punt from their endzone. Johnson returned it 22 yards, but TLCA got caught with a facemask, putting the ball back at their 9-yard line. On the next play, Hightower scored.
With the Eagles driving on their next possession, Honea tried a sneak into the endzone and had the ball pop out at the 6-yard line. Ingram couldn't capitalize on their next possession, but it set up the fateful muffed punt in the fourth quarter.
Trailing 44-28, Honea orchestrated a 14-play drive that Natavian Sykes capped on an 11-yard run. Honea and Skykes hooked up on a 2-point passing score to cut the Ingram lead to 44-36, with 3:59 left.
But De Masco and his coaching staff decided to stick with a heavy dose of Johnson and Hightower. From Ingram's 25, Hightower ripped off runs of 10 and 11 yards, while Johnson added short runs for 6 and 5 yards. And then Hightower took the ball 43 yards for Ingram's final touchdown. Kicker Christian Carranza was six-of-seven on extra points and added a 24-yard field goal in Ingram's first drive of the game.
With two minutes remaining, the Warriors' defense got sacks from Ty Merkel and a fourth-down sack by Brackeen, which sealed the win.
Score by quarters
Ingram 3 21 14 13 — 51
TLCA 14 7 7 8 — 36
Scoring summary
First quarter
I — Carranza 24 FG,
TL — Honea 17 pass to Taylor (kick good), 5:49
TL — Sykes 33 run (kick good)
Second quarter
I — Cason Johnson 15 run (Carranza kick), 5:41
TL ¸— Taylor 11 run (kick good), 4:26
I — Hightower 85 kick return (Carranza kick). 4:13
I — Hightower 1 run (Carranza kick), :01
Third quarter
TL — Honea 11 pass to Sykes (kick good), 6:31
I — Johnson 1 run (Carranza kick), 3:14
I — Hightower 9 run (Carranza kick) 1:45
Fourth quarter
I — Hightower 45 pass to Maverick Delgado (kick fail), 9:03
TL — Sykes 20 run (Skyes pass from Honea), 3:51
I — Hightower 43 run (Carranza kick), 2:09
Team Statistics
I TL
First downs 12 20
Total plays-yards 48-312 64-362
Rushes-yards 35-282 29-138
Passing 3-13-0 18-35-1
Passing yards 42 214
3rd-down eff 2-9 1-9
4th-down eff 2-2 1-2
Fumbles 2-0 2-2
Penalties 7-80 8-91
Individual statistics
Rushing
Ingram — Kye Hightower 20-243, Cason Johnson 10-30, Andres Boites 4-6, Zeph Priddy 1-0.
TLCA — Natavian Sykes 10-79, Jeremiah Bullingor 9-92, Layne Honea 8-(minus-47), Chris Rangel 1-3, Colin Taylor 1-11
Passing
Ingram — Kye Hightower 3-13-0 42.
TLCA — Layne Honea 18-35-1 214.
Receiving
Ingram — Maverick Delgado 2-42, Bowden Zipp 1-0.
TLCA — Chris Rangel 6-62, Jelan Johnson 3-32, Colin Taylor, 6-86 Natavian Sykes 1-11, Isaiah Vaquera 1-19, Kelby Thomas 1-4.