28 unanswered points helps Ingram Tom Moore to 2-0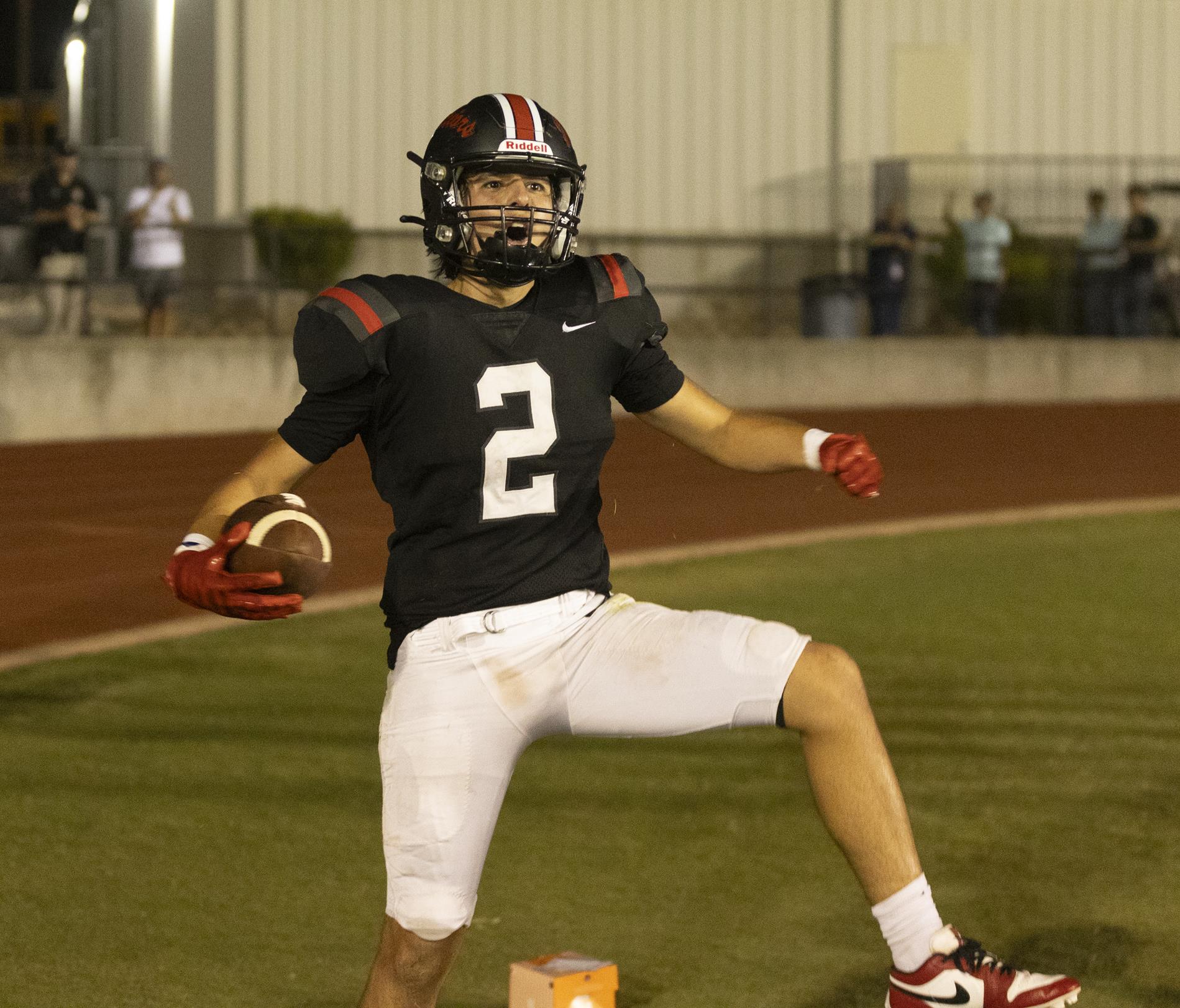 ---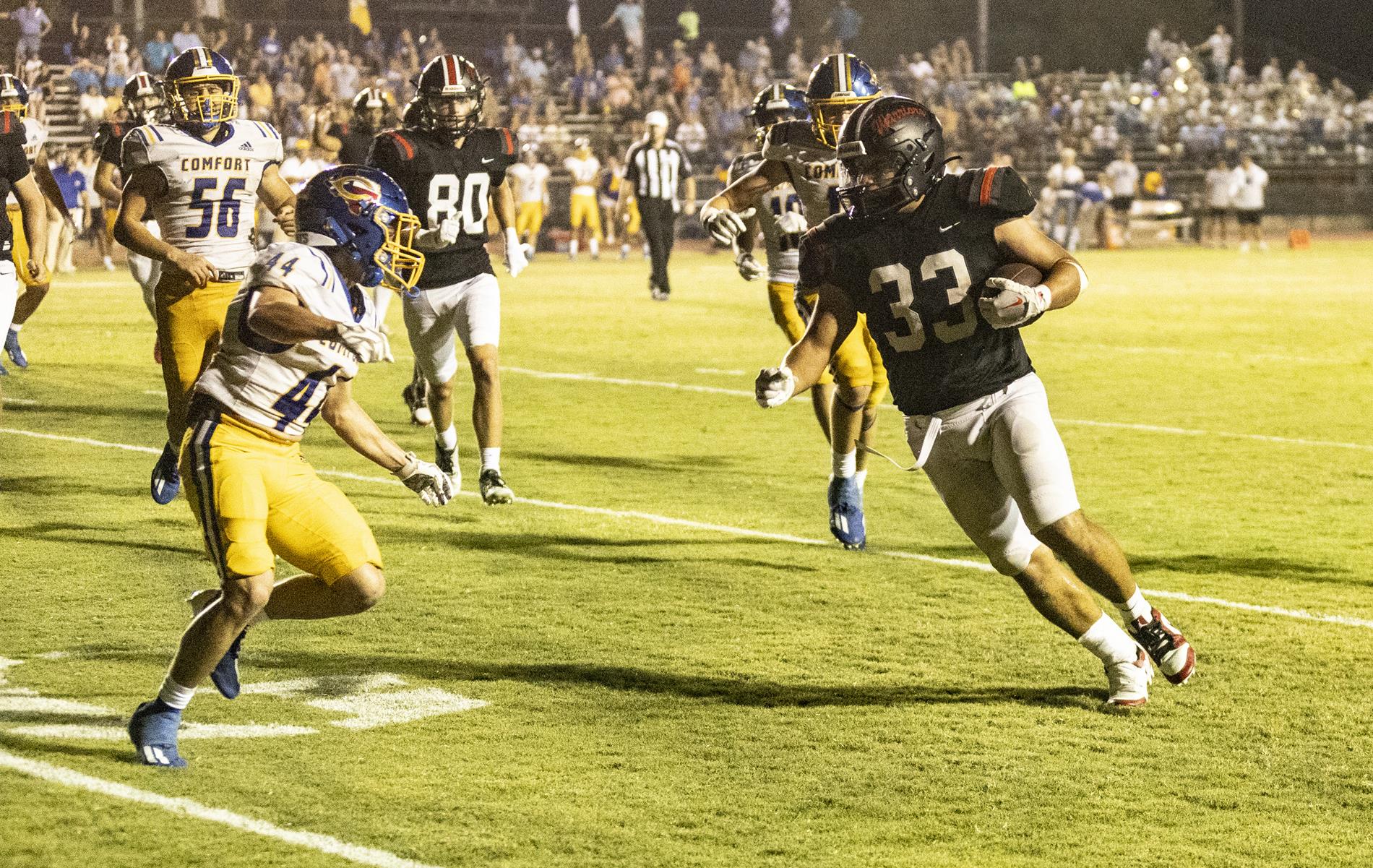 Ingram did everything possible to give Comfort the keys to victory on Friday night, turning the ball over four times in the first half to help the visiting Bobcats jump out to a 21-0 lead by halftime.
After last week's hard-fought 14-13 season-opening road win, defined by defensive grit, Ingram's start could have spelled doom, but this may be a different Ingram team.
"I tell you what, we have a program in place," third-year Ingram coach Tate De Masco said. "The kids didn't even flinch at halftime."
Down 21-0, the Warriors roared back to score 28 unanswered points, including a game-winning touchdown run by Andres Boites with 19.2 seconds left to set off a wild celebration on the field and in the stands. More importantly, the Warriors are now 2-0.
Fueling Friday night's win was the battering ram effort by quarterback Kye Hightower, who rushed for 213 yards and a touchdown. Hightower threw a pair of touchdowns to Maverick Delgado. Hightower produced 319 yards of offense, handling the ball in 43 of Ingram's 61 offensive plays.
It was a game marred by chippy play, turnovers and penalties. Major penalties fueled Comfort's second-half collapse, with the Bobcats racking up 119 yards on 11 penalties. However, a fourth-quarter fumble in Comfort's territory led to Ingram's winning touchdown.
But it was another sublime defensive performance by the Warriors' defense, which gave up just one big play — a 59-yard pass that set up a Comfort touchdown. In the second half, the Warriors never let the Bobcats close to the end zone, giving the offense a field position advantage. The Warriors stopped the Bobcats for no gains or losses in 10 of their 45 rushing attempts, and they repeatedly flushed quarterback Micah Nye out of the pocket. Ingram allowed Comfort one second-half first down.
After holding the Bobcats in the first possession of the second half, Ingram went to work offensively, with Hightower connecting with Delgado on a 39-yard touchdown pass. The Warriors missed the extra point but were back in the game 21-6, with 8:52 left in the third quarter.
On their next possession, the Warriors took advantage of excellent field position and Hightower's running. The junior quarterback ripped off runs of 26 and 25 yards and then scored on a 1-yard run. Hightower hit Delgado for the two-point conversion, and the Warriors trailed 21-14 with 4:48 left in the third quarter.
Ingram and Comfort had their drives wrecked by miscues in the next two possessions. Ingram lost a fumble, while Comfort's drive stalled thanks to penalties.
Heading into the fourth quarter, neither team showed offensive sharpness, and the Warriors struggled to connect the snap for Hightower. Finally, with 5:05 left in the game, Hightower put together the drive that would tie the game. Despite the fumbled snaps, Hightower kept the drive alive with a 9-yard passing play to Maxon Driggers, earning a first down. On third-and-10 from the Comfort 15, Hightower found Delgado in the corner for the touchdown. Freshman kicker Christian Carranza added the extra point to give the Warriors a 21-21 tie with 2:29 left.
Comfort did its best to give the game away on the kickoff, which it muffed but recovered. However, on the next play, Comfort fumbled, and the Warriors recovered at the Bobcats' 46.
Facing a third-and-four, the Warriors caught another break when the Bobcats were called for a facemask against Ingram running back Cason Johnson. The penalty moved the ball deep to the 30 and on the next play Hightower ripped off an 18-yard run. Hightower added 7 more yards on his next carry. Then, on third-and-five, Boites busted around the left side for the game-winning score.
Comfort
14
7
0
0 — 21
Ingram
0
0
14
14 — 28
Scoring summary
First quarter
C — Jayden Arreola 6 run (kick fail), 2:32
C — Sam Tucker 48 fumble return (Indio Castro run), 2:20
Second quarter
C — Micah Nye 1 run (kick good) 3:42
Third quarter
I — Maverick Delgado 39 pass from Kye Hightower (kick fail), 8:39
I — Hightower 1 run (Delgado pass from Hightower good), 4:48
Fourth quarter
I — Delgado 15 pass from Hightower (Carranza kick) 2:29
I — Andres Boites 5 run (Carranza kick) 19.2
C

I
First downs
10
21
Total plays
53
61
Total yards
311
360
Rushes-yards
45-238
46-254
Passing
5-8-0
8-15-1
Passing yards
73
106
Fumbles-lost
2-2
6-4
Third-down eff.
2-10
8-13
Fourth-down eff.
1-2
0-0
Penalties-yards
11-119
4-48
Individual statistics
Rushing
Comfort — Sam Tucker 15-97, Micah Nye 17-53, Indio Castro 8-17, Jayden Arreola 5-71.
Ingram — Kye Hightower 28-213, Andres Boites 5-21, Cason Johnson 9-18, Zeph Priddy 1-1, Cohen Keith 1-0, Jack Sharp 1-0, Angus McLaughlin 1-1.
Passing
Comfort — Micah Nye 5-8-0 73.
Ingram — Hightower 8-15-1 106.
Receiving
Comfort — Indio Castro 1-10, Jayden Arreola 1-59, Sam Tucker 1-4.
Ingram — Maverick Delgado 6-83, Sharp 1-14, Maxon Driggers 1-9.