A long night of work helps improve Warriors to 3-0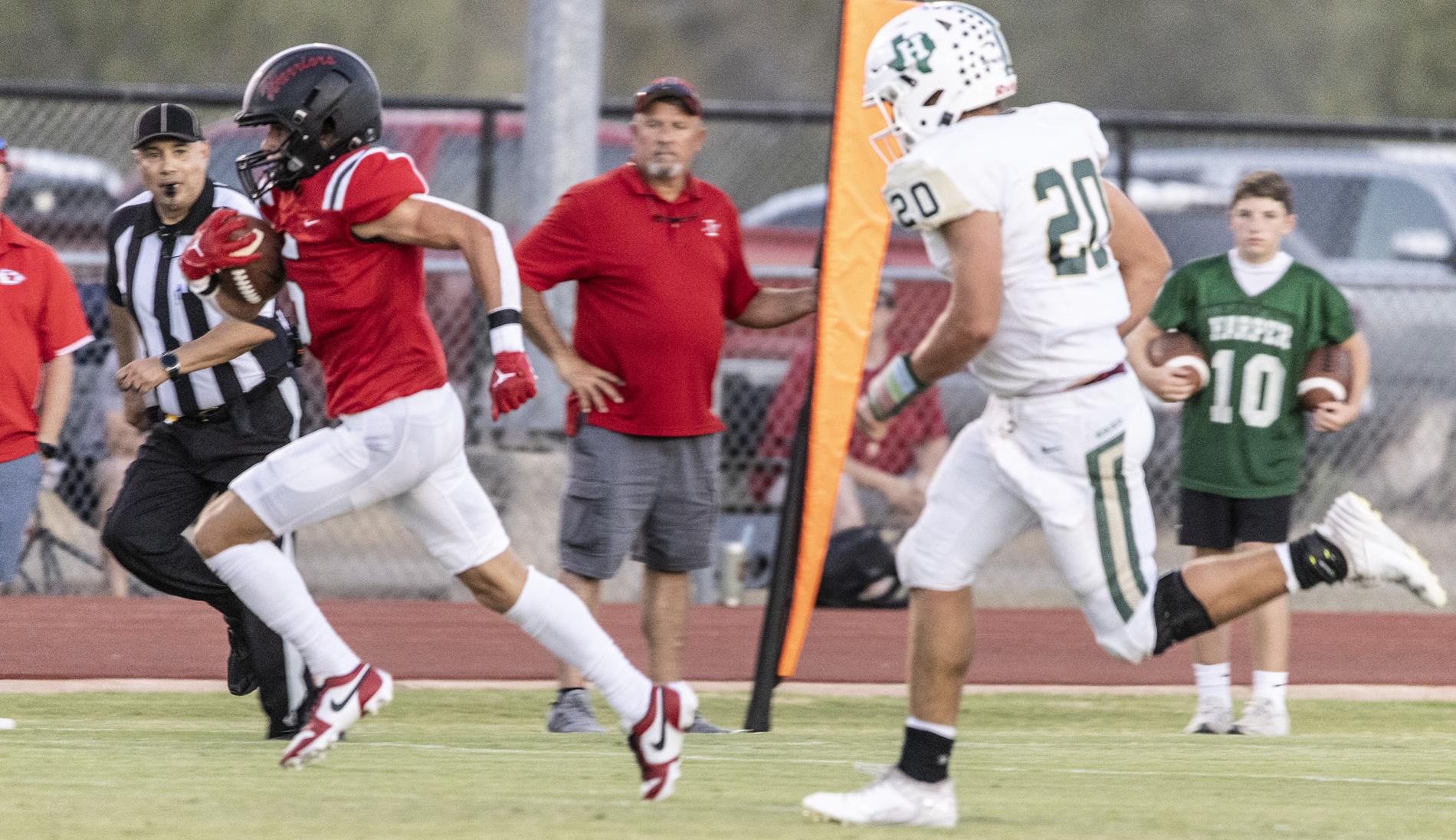 ---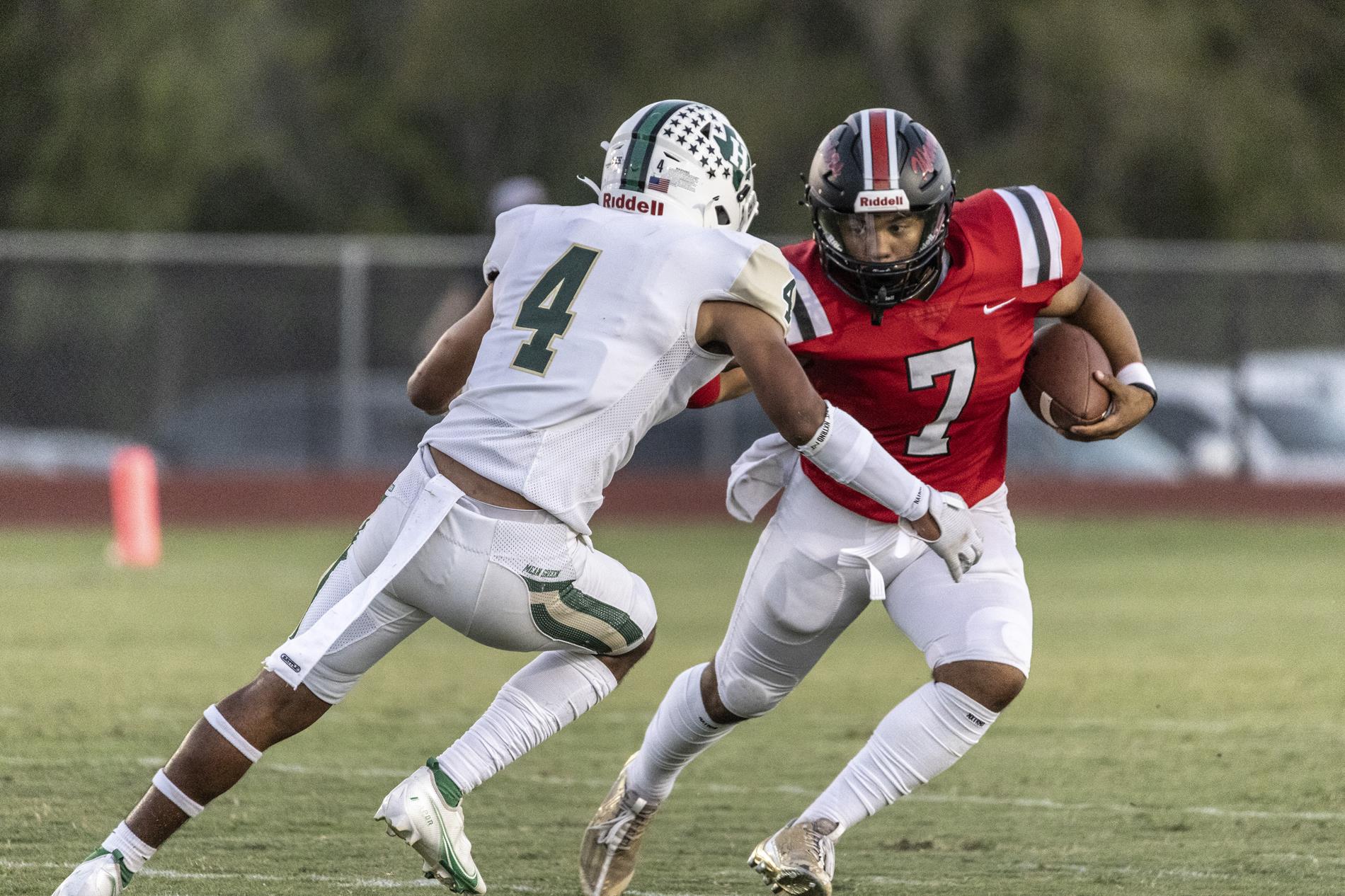 It took more than three hours Friday night, but Ingram Tom Moore High School got off the field with an exhausting 35-25 victory over visiting Harper.
The good news is the Warriors are now 3-0, fueled by another epic performance by junior quarterback Kye Hightower, who rushed for 218 yards and passed for another 135. Hightower's two fourth-quarter rushing touchdowns, including a 51-yard scamper, proved to be the backbreaker.
The bad news is the Warriors got ripped up by Harper quarterback Bryson Lake, who threw for 241 yards against Ingram's secondary. And then there were penalties and turnovers. After the game, Ingram coach Tate De Masco wanted to focus on fixing the mistakes.
"I can't fault the kids efforts tonight, we figured out a way to win, but we've got to coach better," said De Masco, whose team faced high heat from kickoff until the end. "There's a lot of stuff we need to work on."
Maybe the slog at the end of the game proved challenging — for everyone. The game time high was nearly 100 degrees, and by its end, it was still hovering in the high 80s.
However, the Warriors' defense turned in its best defense against the run by limiting the previously unbeaten Longhorns to 47 yards. The Warriors stopped Harper runners for no gains or losses on 12 of the Longhorns' 32 running plays and forced three fumbles.
The Warriors got on the board after a season-long 67-yard touchdown run by Bowden Zipp, with 7:31 left in the first quarter. It was one of three big plays on the night for the Warriors.
Two of Ingram's first three drives stalled in the red zone, an issue that De Masco said needs addressing on Monday. Instead of being up 21-0, the Warriors settled for a narrow position, and Harper marched down the field and scored on an 8-yard pass from Bryson Lake to Tristin Sanchez, with 10:41 in the second quarter.
Tied 7-7, the Warriors put together another drive, this time aided by Harper's penalties, culminating in an 18-yard touchdown pass from Hightower to Zipp with 5:17 remaining in the first half.
After halftime, Harper was able to cash in on an Ingram fumble at the Warriors 16. Two plays later, Harper sophomore running back Justin Wilke scored on an 8-yard run. However, the Longhorns failed to tie the game on a botched point-after kick.
But Harper's problems with turnovers came back to haunt it, and Ingram took advantage with a short drive that Cason Johnson capped with a 10-yard run to help boost the Warriors lead to 21-13 with 3:16 left in the third quarter.
Entering the fourth quarter, Harper had a nine-play, 77-yard drive that the Lake brothers finished. Bryson Lake found his brother, Braydon, on a 15-yard passing play with 8:26 left in the game. But it was the extra points that would plague the Longhorns all night, and this time, it was a missed two-point passing play.
But on the next possession, Ingram handed Harper a full dose of Hightower, who ripped off chunks of yards that set up a backbreaking 51-yard run that featured a tip-toe down the sidelines and into the endzone. Christian Carranza's extra point gave the Warriors a 28-19 lead with seven minutes remaining.
It was the defense's turn to shine and it came from defense lineman Christopher Alva, who sacked Bryson Lake for a 10-yard loss. Lake then suffered cramps and was taken out of the game.
Hightower did the rest, this time an 11-yard run to help boost the Warriors lead to 35-19. Harper added a late touchdown, but it was too late. The Warriors were able to run out the clock to earn the victory.
Harper
7
0
6
12 — 25
Ingram
7
7
7
14 — 35
Scoring summary
First quarter
I — Bowden Zipp 67-yard run (Christian Carranza kick), 7:31
Second quarter
H — Tristin Sanchez 8 pass from Bryson Lake (Lake kick), 10:41
I — Bowden Zipp 18 pass from Kye Hightower (Carranza kick), 5:17
Third quarter
H — Justin Wilke 8 run (kick fail), 5:19
I — Cason Johnson 10 run (Carranza kick), 3:16
Fourth quarter
H — Braydon Lake 15 pass from Bryson Lake (Pass fail), 8:26
I — Hightower 51 run (Carranza kick), 7:04
I — Hightower 11 run (Carranza kick), 2:43
H — William Spaeth 12 pass from Braydon Lake (Pass fail), 27.7
H

I
First downs
16
13
Total plays-yards
63-342
57-477
Rushes-yards
32-47
37-342
Passing
20-31-1
7-20-0
Yards
295
135
3rd down eff.
9-16
4-12
4th down eff.
1-2
0-4
Fumbles-lost
3-3
3-1
Penalties
10-50
12-89
Individual Statistics
Rushing
Harper — Justin Wilke 15-29, Bryson Lake 13-15
Ingram — Kye Hightower 19-218, Cason Johnson 11-27, Bowden Zipp 1-67, Andres Boites 3-23, Zephaniah Priddy 1-7.
Passing
Harper — Bryson Lake 14-21-1 241, Braydon Lake 6-10-0 54.
Ingram — Hightower 7-20-0 135.
Receiving
Harper — Wilke 3-38, William Spaeth 2-32, Braydon Lake 1-0, Layne Holmes 1-8.
Ingram — Johnson 2-24, Maverick Delgado 3-44, Zipp 1-18, Cohen Keith 1-34.